Infosys Foundation Bangalore is constructing "Infosys Foundation Seva Bharathi Complex for Divyang" at Madhava Vana, Montepadavu of Naringana Village, Ullal Taluk. This project of Seva Bharathi ® is mainly for permanent stay of most needy differently abled people (Divyangs), a solace for the worry of parents of Divyangs. In this mega project, it is also proposed to serve the differently abled people by opening a day care centre/school for their Socio-general education, co-curricular activities, Treatment like Physiotherapy, speech therapy, Vocational Training 'under one roof' to all in an environment friendly campus.
In this complex, there is no provision for staying of Divyang with their parents for short term rehabilitation and for senior citizens, especially those who are suffering from Dementia. As such, a separate residential block is under construction in the Madhava Vana campus, named as 'Seva Chetana'.
Providing a separate residential block for rehabilitation of Divyangs with their parents/guardians, senior citizens and short term accommodation for 24X7 caregivers.
Divyang children with Parents, needy senior citizens, Special Trainers and guests, Care givers.
Madhava Vana, Montepadavu in Neringana village, Ullal Taluk, Dakshina Kannada, located at a distance of 24 kms from Mangaluru.
The District office, Department of Welfare of Backward Communities, Government of Karnataka.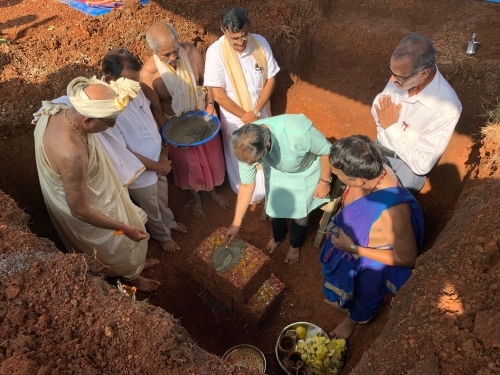 Foundation Stone Laid by Shri  Mahabaleshwara M. S, the M.D & CEO, Karnataka Bank in November 2021 in presence of Shri Krishna J Palemar, Ex Minister, Government of Karnataka and Chairman & CEO, Land links Builders and Developers, Mangaluru, Trustees of Seva Bharathi, Donors and Well-wishers.
A brochure highlighting the purpose of the project is attached
Support us through your contribution
Support us through your contribution
Seva Bharathi's health, education, livelihood and response programmes bring lasting change in the lives and livelihoods of Divyang , Visually Impaired Kids, Endosulphan Victims & Autism Spectrum disorder children.
Donate Now