Autism Spectrum Disorder (ASD) is a lifelong disorder that impairs an individual's understanding of what he/she sees, hears or senses. The disorder characterized by impaired development in communication, social interaction, and behavior. It is found in all the countries of the world and in the families of all racial, ethnic, religious and economic backgrounds. Ongoing research around the world is yet to unearth a definitive conclusion with regard to the causes of Autism. Autism is a neurological disorder. The genetic factors play a major role in its occurrence.
Working for the children with autism and Communication disorders to lead a fulfilling and independant life to the possible extent.
Therapy – Monday to Friday, 9.30 am to 12.45 noon and 1.30 pm to 5.00 pm
Group Therapy – Saturday (Monthly 02 Saturdays) 10.00 am to 12.00 noon.
Children with Autism Spectrum Disorder and communication related other disorders.
Separate block in CCDC premises.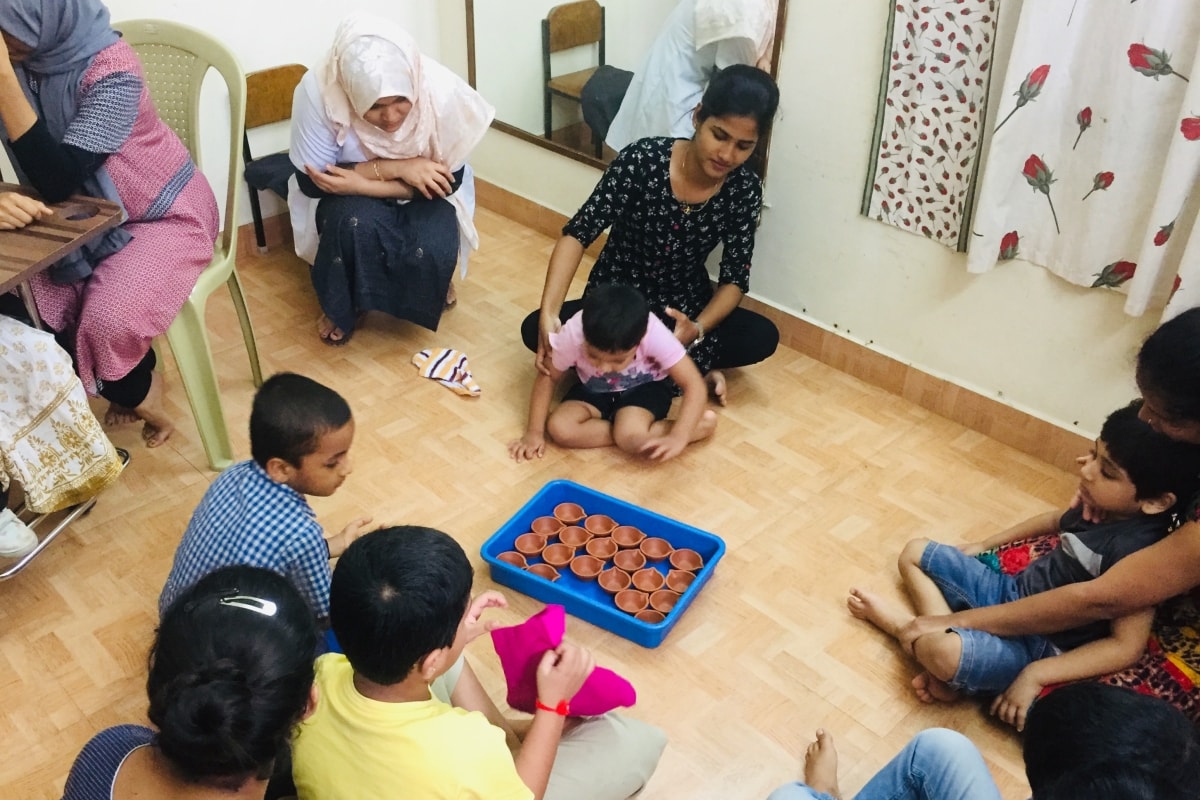 An evaluation is done and children are enrolled accordingly.
The parents are asked to bring their kids as per the timings fixed by the centre.
Reasonable fee is collected for each session.
Resources, Beneficiaries & Facilities
Staff
Speech Language Therapist
03
Developmental Educator
01
Behavioural Therapist
01
Psychologist
01
Total
05
Facilities
Class Rooms
Ball Pool
Sensory Park
Outdoor Play Area
OT Room
NCDC provides an early intervention and comprehensive program that uses scientifically proven methods for the children with Autism, ADHD, Speech delay, learning difficulties and other communication disorders. The core philosophy of the centre is that the individuals with varying abilities can be taught communication and functional skills to lead an independent, productive and rewarding life as adults. The ultimate goal of NCDC is that the children with autism should lead a most fulfilling and vibrant life, as far as possible.
Intervention services focuses on improving a child's abilities to understand and express language, including nonverbal language, thereby improving child's speech.
will focus on achieving gross and fine motor, social emotional, language and cognitive milestones, running social skills classes to teach and support social skills (social thinking, communication, turn taking, waiting, social based games). The social skill classes are conducted twice a week
comprises of the basis of the treatment plan. It is a highly structured, scientific approach that teaches play, communication, self-care, academic and social living skills, and reduces problematic behavior.
is a FREE service provided to push for early intervention.
to support gross and fine motor skills, sensory integration and functional life skills.
Clinical and diagnostic evaluations are taken up under the supervision of psychologist.
NCDC offers home based activities which help to address problem areas at home. The parents and the families of the affected child are trained so that the child continues to progress despite away from the centre.
NCDC is succeeding to see that all those who enrolled in the centre get admitted in the normal school. Still parents are asked to attend with the kid at NCDC for better follow up.
The NCDC has collaboration with Nitte Institute of Hearing & Speech Therapy, Mangaluru
Support us through your contribution
Support us through your contribution
Seva Bharathi's health, education, livelihood and response programmes bring lasting change in the lives and livelihoods of Divyang , Visually Impaired Kids, Endosulphan Victims & Autism Spectrum disorder children.
Donate Now