Niramaya Health Insurance Scheme.
Introduction
The National Trust, a statutory body of Government of India has envisaged several schemes for the welfare of persons with Autism, Cerebral Palsy, Intellectual disability and multiple disabilities.
Out of such schemes, Niramaya Health Insurance Scheme (NHIS) is one which highly helpful to the beneficiaries.
Seva Bharathi (R) Mangalore has been entrusted to receive and process the applications for the said Scheme and claims under the scheme within Dakshina Kannada District.
Objective:
Assisting the Divyang of the notified category to apply and process the initial applications and also receiving/processing the claim with the Authority/Insurance Company.
Target group
Divyang of only four notified disabilities, by the Government.
Location
Seva Bharathi building, Mangaluru.
Reach Area
Dakshina Kannada District.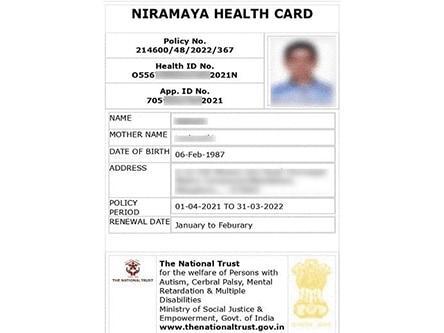 Benefits of Niramaya Health Insurance Scheme.
Health Insurance coverage upto Rs.one lakh, on reimbursement basis.
No pre-insurance medical checkup of the applicant.
Treatment can be taken in any recognized hospitals.
No age restrictions and no premium.
One can apply/enroll to the scheme, throughout the year.
Applications accepted valid upto end of the March of the applied year.
Renewal of the application/scheme is allowed, in January/February every year.
Admission fee Structure.
| | | | |
| --- | --- | --- | --- |
| Applicant category | Enrolment Fee | Renewal Fee | required Documents |
| BPL | Nil | Nil | Copies of disability Card, Aadhar Card, BPL Card, Photo, Bank A/C details |
| Non BPL | ₹.500.00 | ₹.250.00 | Copies of disability Card, Aadhar Card, Photo, Bank A/C details |
| Legal Guardians (Other than natural parents) | Nil | Nil | Copies of disability Card, Aadhar Card, Photo, Legal Guardianship Certificate, Bank A/C details |
Break up of one lakh Insurance Coverage

1.
Overall Limit of Hospitalization
₹. 55,000.00

| | | |
| --- | --- | --- |
| a. | Corrective Surgeries for existing Disability, including congenital disability | ₹. 40,000.00 |
| b | Non- Surgical/ Hospitalization | ₹. 15,000.00 |

2.
Overall Limit for Out Patient Department (OPD)
₹. 19,000.00

| | | |
| --- | --- | --- |
| a. | OPD treatment including the medicines, pathology, diagnostic tests etc. & Regular Medical check-up for non-ailing disabled | ₹. 15,000.00 |
| b | Dental Preventive Dentistry | ₹. 4,000.00 |

3.
Ongoing Therapy to reduce impact of disability and disability related complications
₹. 20,000.00
4.
Alternative Medicine
₹. 4,000.00
5.
Transportation costs
₹. 2,000.00

Insured total amount fixed per person

₹. 1,00,000.00
Processes to apply and obtain NHIS Card:

Application form can be collected from Seva Bharathi Office at Chetana Child Development Centre, V.T Road, Mangaluru during office hours.
The application submitted in full shape will be forwarded to the Insurance Company, by Seva Bharathi.
The information on accepting/pending for want of more information will be sent by the insurance company, to the beneficiary to his registered mobile and also to Seva Bharathi.
Attended application submitted at Seva Bharathi will be forwarded to the Insurance Company.
Insurance Company is the final Authority to accept the application or otherwise, to issue the NHIS Card.
In case of accepting, NHIS Card will be handed over to the Applicant, by Seva Bharathi.
Insurance Company is the final Authority in settling the claims.
Claim Settlement Process

The claim with relevant documents to be submitted at Seva Bharathi Office within 7 days of treatment or discharge.
The claim to be attached with copies each of NHIS Card, Disability Certificate, Aadhar Card, Bank Account details. The Bank Account can be either in the name of beneficiary or jointly with parent.
In case of OPD, the prescriptions referred by the Consultant/doctor and bills/receipts of hospitals, Doctors, Medicine, Therapy fee, Transportation etc. are to be in originals.
In case of in-patient treatment, discharge summary, case sheet, Laboratory test and its' reports, Scan, X-ray reports etc. are to be in originals.
In case of hospitalization, the details to be intimated immediately to Seva Bharathi, once applicant is admitted to hospital and in any way not later than the date of discharge.
Resource:
The Volunteers and the staff of Seva Bharathi.
Success Story

This service started in March 2021. Out of 374 applications are received/processed so far, 351 got NHIS card. Remaining applications are in the process of verification/issuance.
In order to cover all the eligible Divyang living in Dakshina Kannada district, under the NHI scheme, letters on the subject were communicated to all the Special Schools, Grama Panchayats in the district. The staff of District Disability office (MRWs, VRWs) were also requested to motivate divyang in their area for the purpose. Several Awareness Programs were organized in association with Gram Panchayats in respective villages. The special schools were contacted to convince the benefits of the scheme to the eligible divyangs. The information conveyed to the applicants/visitors who approach Seva Bharathi office for one or the other purposes. Functions were organized in the premises of Seva Bharathi to distribute the Niramaya Health Insurance cards through eminent persons in the society. The said functions were also utilized to create awareness on the benefits of the scheme and also UDID Cards and Legal Guardianship Certificates, by arranging session for question and Answer by the beneficiaries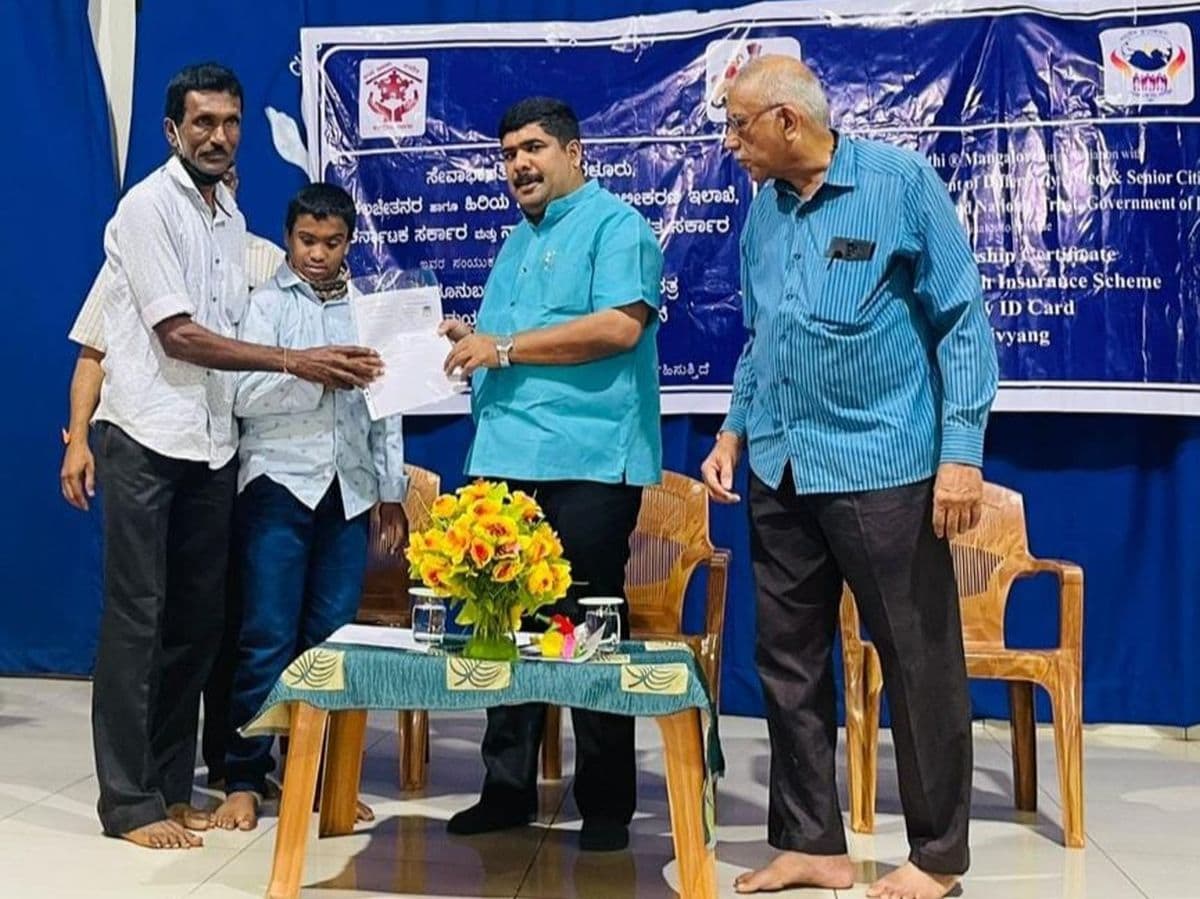 Acknowledgement

Government of Karnataka, Department of Empowerment of Differently Abled & Senior Citizens, Dakshina Kannada Zilla Panchayath Office Premises, Kottara, Mangaluru – 575 006.
Support us through your contribution
Support us through your contribution
Seva Bharathi's health, education, livelihood and response programmes bring lasting change in the lives and livelihoods of Divyang , Visually Impaired Kids, Endosulphan Victims & Autism Spectrum disorder children.
Donate Now