Endosulfan Victims Day Care Centres
Endosulphan, is a pesticide used to spray to Cashew Plants in 1980s, in most of taluks in Dakshina Kannada district. Due to this, the babies took birth in the area in the later years possessed severe physical and mental disabilities, comes under 'Endosulphan Victims'.
The census revealed that such victims are in big numbers, to say 'in thousands'. Hence, the Government of Karnataka framed a scheme early in 2010 for rehabilitation of those victims by operating "Day Care Centers" for such affected children/persons.
Govt. has identified some places and run such centers in the District.
In April 2017, in appreciation of community services of Seva Bharathi, the Government offered two such centers, among six cnetres in the District, to Seva Bharathi.
One, at Kokkada in Belthangady Taluk situated at a distance of 73 Kms from Mangalore and the other at Koila, situated in Puttur/Sullia Taluk, 85 kms. from Mangalore.
However, the service to the Endosulfan victims has been entrusted to another agency, who was L-1 as per the tender process by Government of Karnataka, the Endosulfan service is not under Seva Bharathi from July 2019. During Seva Bharathi tenure the service was as hereunder.
Activities
Bringing the inmates daily to the centers, from respective residences, in hired vehicles.
Providing nutritious food in breakfast, lunch, at fixed intervals.
Providing required physiotherapy and speech therapy.
Separate accommodation for girls & boys is provided.
Conducting periodic meetings of "Palana Samithi' and "parents meetings' for getting the feedback and reviewing the feedback periodically.
Organizing medical checkup camps, possibly once in a month.
Dropping the inmates back at their residences, in the evening.
Achievements
Two inmates were trained to appear in SSLC examination came out successfully. This is a remarkable achievement in the history of service to Endosulphan Victims.
'Earning and learning' i.e skill development was introduced in the daily activities of Endosulfan Victims.
Endosulfan Victims were brought to the Vishishtarigagi Vishishta Mela (Annual gathering of challenged children organized by Seva Bharathi) at Mangaluru where they enjoy whole day, outside their village.
They were also taken up in a tour to Kudroli Shree Gokarnanatha Temple, Mangaluru and Sea Beach (Tannirubavi Tree Park), Panambur, Mangaluru. It was a memorable day for them, as first time in their life, they were taken outside their
home / village, to enjoy sea/beach.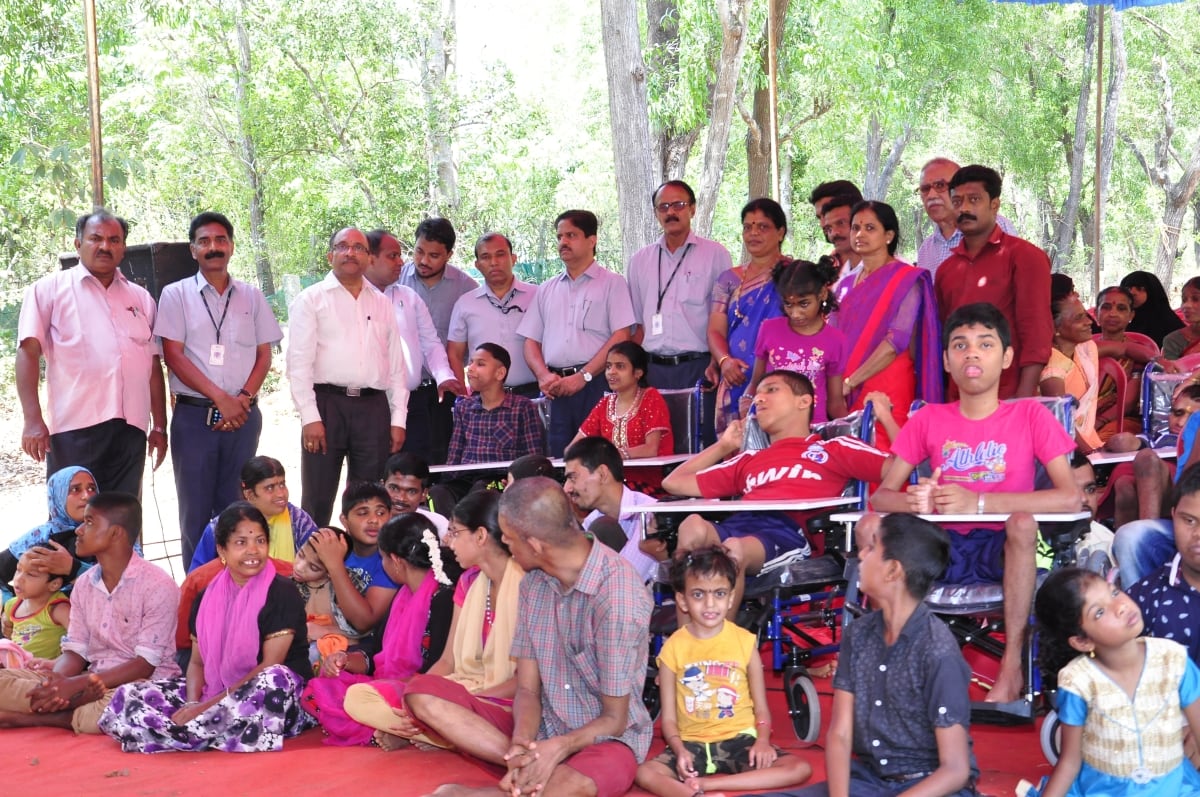 A tour for Endosulphan Victims was made to Kudroli Shree Gokarnanatha Temple, Mangaluru and Sea beach (Tannirbavi Tree Park), Panambur, Mangaluru.
Support us through your contribution
Support us through your contribution
Seva Bharathi's health, education, livelihood and response programmes bring lasting change in the lives and livelihoods of Divyang , Visually Impaired Kids, Endosulphan Victims & Autism Spectrum disorder children.
Donate Now