Chetana Child Development Centre (CCDC)
Objective
Providing day care, health care, general and social education and therapy treatments.
Target Group
Children with physical disability, Multiple disability, Mental Retardation, Down syndrome, Celebral Palsy.
Location
Works in a full-fledged independent building at Vithobha Temple Road, Mangaluru.
Reach Area
Mangaluru City
Celebrates Independence Day, Republic Day, Teachers Day, Shri Krishna Janmastami, Ayudha Pooja, Raksha Bandhan, Deepavali, Christmas/New Year and Mass Birth Day.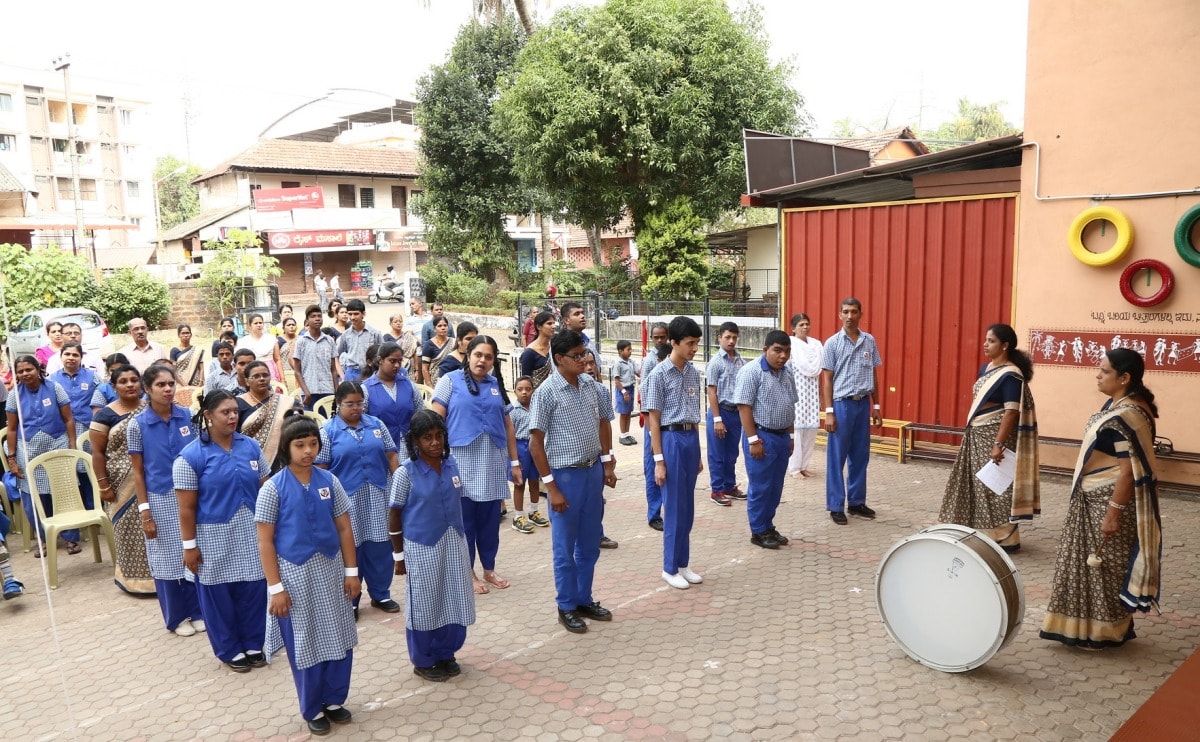 Admission Process
Admission of both male and female is done, in between the age group of 05 to 25 years.
Disability certificate, issued by Competent Authority, of the child produced by the parents is the base for admission.
A nominal fee is collected on voluntary basis.
If the residence of the new entrant falls on the existing bus route, on demand, he/she will be included in the school bus.
Working Hours
9.30 am to 3.30 pm, on all week days, except Saturdays and Sundays.
Resources and Beneficiaries
Staff
| | |
| --- | --- |
| Head Mistress | 01 |
| Special Teachers | 04 |
| Assistant Teachers | 07 |
| Speech Therapist | 01 |
| Clerk | 01 |
| Helpers | 06 |
| Drivers | 02 |
| Total | 22 |
Children
| | |
| --- | --- |
| Mild M R | 17 |
| Moderate MR | 16 |
| Severe MR | 10 |
| Autism | 18 |
| Down syndrome | 04 |
| Cerebral Palsy | 20 |
| Multiple disability | 03 |
| Total | 88 |
CCDC works as a day care centre for Differently Challenged children. It works like a school with classes based on severity of the disability.
Bringing the Divyang children from their respective residences and dropping them back.
The Day begins with the prayer song "Chetana Chetana……" depicting the dreams of special children and the day ends with National Anthem.
Provides treatment in Physiotherapy, Speech Therapy and Occupational Therapy.
General teaching such as reading, writing, calculating, singing etc. are also imparted in subject like English, Kannada, Mathematics, Art, Music, Sports and dance.
The children are involved in sports & games, art, music, dance, skating etc. utilizing the voluntary services extended by the individuals, apart from school children.
Once a week a Homeopathy consultant visits the school and provides medicines, after examination, to all free of cost.
Midday meal is served to the children through 'Akshaya Patra' of ISKCON scheme.
Celebrates School re-opening day, Independence Day, Raksha Bandhan, Shri Krishna Janmastami, Teachers Day, Ayudha Pooja,  Deepavali, Annual Day, Republic Day, Autism Day & Mass Birth Day.
In 2015, the esteemed Central govt. undertaking KIOCL, Panambur sponsored a school bus to CCDC for transporting the Children.
In 2019, Well-known, LIC of India sponsored a school bus to CCDC, from it's Golden Jubiliee Fund, for transporting the Children.
The CCDC has been adjudged as "Best Institution' in the services of "Disabled People" by Govt. of Karnataka and honoured with a Trophy and cash award on World Disabled Day on 03.12.2016, at Bangaluru.
The Chetana Child Development Centre celebrated it's Silver Jubilee year on 12.02.2018 in a meaningful way by honoring all those associated and supported for it's growth and functioning.
Support us through your contribution
Support us through your contribution
Seva Bharathi's health, education, livelihood and response programmes bring lasting change in the lives and livelihoods of Divyang , Visually Impaired Kids, Endosulphan Victims & Autism Spectrum disorder children.
Donate Now